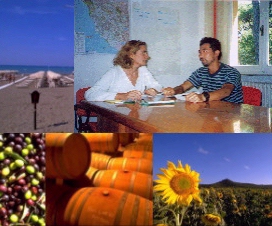 Learn Italian and get to know our culture, history and society on the coast in the heart of Tuscany.

Why in Castagneto Carducci

The beauty of the landscape has maintained the balance between nature and culture: the sea and the long beaches; the countryside and the hills in a typical Tuscan landscape; the villages with the medieval towers and castles.
The vicinity to the major artistic centres in Tuscany, to Rome and to the islands of the Tuscan Archipelago which can be visited in one day tours offers the participants the opportunity to get to know Italy and its culture.
Living in the friendly informal atmosphere of the village the students can really practice Italian with the inhabitants avoiding the risk to meet only foreign students as it often happens in major cities.
The mild weather is suitable for a pleasant period of study and holiday during all the year.


Individual tuition and group courses in Italian language with afternoon cultural activities and excursions.
Courses in Italian language for business and trade: individual tuition and group courses for employees, personnel and managers from international Companies.
Special courses and programs in Italian language and culture for groups of school, college and university students with afternoon cultural activities and excursions
Vela&Lingua
: learning Italian while sailing to the Island of Elba.
for more information:

Last updated: 10. 06. 2022